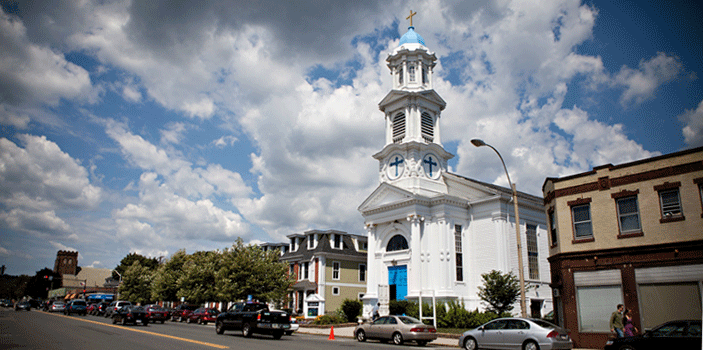 Directions
| | |
| --- | --- |
| Highrock's building is located at: | 735 Massachusetts Avenue Arlington, Massachusetts 02476 |
Map
Public transportation
These three buses stop right in front of the church:
[+] 77 from Harvard along Mass Ave
[+] 67 from Alewife*
[+] 79 from Alewife through Arlington Heights, along Mass Ave*
These three buses stop at Arlington Center, three blocks east of the Church:
[+] 87 from Lechmere (Cambridge), through Somerville, Davis Square & Tufts
[+] 80 from Lechmere (Cambridge), through Somerville, Medford & Tufts
[+] 350 from Alewife, Burlington, Woburn, & Winchester.
*Runs only on weekdays
Parking

- You can park in any legal space along any of the streets (e.g., Mass. Ave.),
- Parking is available for visitors, families with children, and those with special needs in the small lot behind the church (off Bacon Street)
- General parking is available (Sundays and evenings after 6pm) in the Town Hall Parking lot (across Mass. Ave., via Academy Street)
- General parking is also available (Sundays) one block east in the Citizen's Bank parking lot (off of Mass Ave.).
Handicap accessibilty
Highrock is accessible because we want to include everyone around God's table, including those with special physical challenges. There is a designated handicapped parking space on Mass Ave in front of the church. Nearby is the paved pathway on the left front side of the building that leads to a wheelchair elevator. The door is right in front of the playground.
The elevator goes up to the sanctuary, or down to Highrock Commons, and every part of the building is wheelchair accessible from those two points. For your convenience, there is an ADA bathroom on the sanctuary level.
In both our strengths and our limitations, we each reflect essential elements of the image of God. We hope that you will feel welcome here so that the image of God we reflect will be more complete.